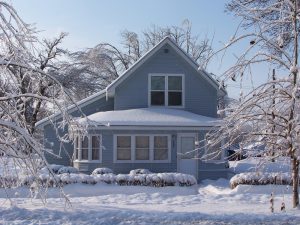 With winter right around the corner it is important to ensure that your home is properly prepared for the season and all its inclement weather. Failure to winterize your home can result in serious property damage which means serious home insurance claims. Here at Zeller Insurance we know your home is important to you – it is important to us too.  That is why we have prepared a lists of tasks homeowners and renters should complete so that this winter doesn't leave you with the cold shoulder:
Undo and put away all hoses – hoses left out from the summer months have the potential to freeze and back up, potentially flooding your basement or crawl space with water.
Clean those gutters! – snow and ice can cause damage to your gutters, especially if they are filled with debris from the previous seasons.
Service your tools – servicing your spring and summer tools before putting them away helps you to get a head start on your lawn upkeep for next year. Likewise, making sure your winter tools are ready for use helps you to be prepared for any harsh weather.
Stock up on salt – if you use salt to keep your driveway and sidewalk clear make sure to grab a little extra just in case.
Inspect/clean your chimneys – if you plan to light fires this holiday season make sure to have your chimney properly inspected and cleaned before doing so. Having your chimney in good condition lessens the possibility of house fires, carbon monoxide poisoning, and smoke damage.
Seal your windows and doors – doing this not only keeps the cold air from getting in, it also keeps the warm air from getting out – leaving you with warm feelings and a lower gas/electric bill.
Remember that your home is both your biggest asset and your biggest liability. Taking steps to properly winterize your home will save you time and will ensure the health and safety of yourself, your family, and others. Following these steps will also save you the time and effort of filing an insurance claim that could result in a rate hike.
We care about our clients and are dedicated to providing you the best quality service. If you have any questions about winterizing your home don't hesitate to call us at 877-372-8456 or send us an email at info@zellerinsurance.com. Walk-ins are always welcome!